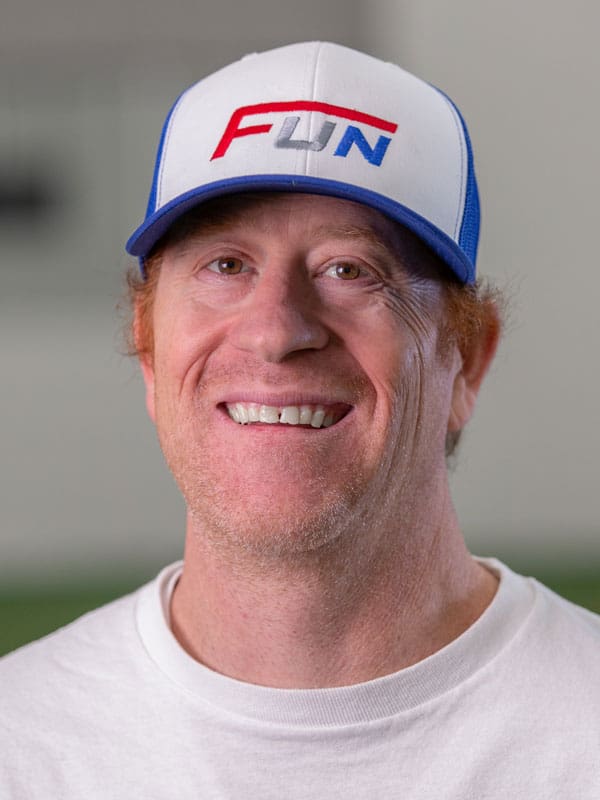 Scott Shraiberg
For Fundamental Youth Sports founder and coach Scott Shraiberg, being heavily involved in sports – both as an athlete and a coach — has shaped him as a person. On the field, he was a two-sport athlete at Cherry Creek High School, winning a state championship and earning all-league honors in football, and competing in baseball. In college, he was a four-year starter in football at Whittier College (Whittier, Calif.), where he was an all-league player and won two league championships. He also lettered in golf at Whittier.
His successful coaching career spans more than 15 years between youth sports and college athletics. He coached high school football at three powerhouses: Cherry Creek (under head coaches Dave Logan and Mike Brookhart, winning five league championships during his six seasons), Bear Creek (under Tom Thenell, winning two league championships in his three seasons), and Kent Denver (under Scott Yates, winning a league championship in his two years). He also spent a season as defensive backs coach at Chapman University (Orange, Calif.), in which the Panthers won a league championship.
He has vast experience coaching younger athletes as well, leading multiple local youth sports teams.
Athletics has helped him hone leadership skills in all facets of life, and he is currently owner of Colorado homebuilder Esprit Homes. The 1995 graduate of Cherry Creek High School graduated with a Bachelor of Arts degree from Whittier College in 1999 and a master's degree in real estate and Construction Management from the University of Denver in 2001.
When not coaching, he's spending time with his family. His wife, Autumn, is a personal trainer from Santa Cruz, Calif. He has an 8-year-old son, Elvis, is a budding scientist who loves animals and insects, and his daughter, Gracie, is a happy-go-lucky 5-year-old who loves whatever is happening on a given day. The family of four loves traveling, listening to music, taking advantage of all the outdoors Colorado has to offer, playing sports, visiting museums/zoos, and spending as much time with family and friends as possible.
Coaching Experience at A Glance
Assistant football coach, Chapman University (one season)
Assistant football coach, Cherry Creek High School (six seasons)
Assistant football coach, Bear Creek High School (three seasons)
Assistant football coach, Kent Denver High School (two seasons)
Local youth sports baseball and football (eight total seasons)
Education at a Glance
1991-1995, Cherry Creek High School
1995-1999, Whittier College (Undergraduate)
1999-2001, University of Denver (Master's)